Project Challenges, Inspired Solutions
Every blast mitigation project that aims to imbue living spaces with safety and user confidence, brings unique implementation challenges and obstacles.
AJA has successfully installed some of the most challenging jobs involving:
45° angled installation with large and heavy glass panels
Bulky window panels (5000mm x 1500mm) weighing 1 tonne per piece
All glass building with limited anchoring points
Blending "non existent" blast mitigation look with uncompromised performance
Achieve -/+2 mm tolerance for window diagonal with steel material, entailing welding work and large dimensions
Case Studies
Key government building, a heritage conservation icon (2012)
| | | |
| --- | --- | --- |
| Project Details | : | Install 200 blast windows (open casement, steel frame), each measuring up to 5000mm height x 1500mm width, and weighing up to 1000 kg |
| Project Challenges | : | Achieve +/- 2mm tolerance at each window diagonal with steel material, involving welding work for large dimensions. |
AJA Solution
Develop a pivot system to take the load of the window and to withstand the blast load.
Rigorous flatness and dimension control of the steel members during welding of the window frame.
Extensive fine tuning of window panel dimensions to ensure a functional window. Use of coated steel capping to achieve uncompromised aesthetics.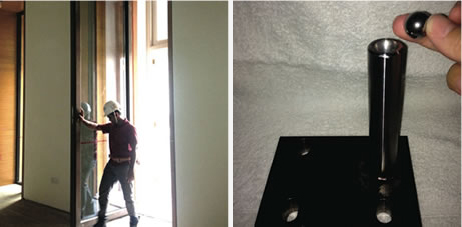 ---
Case Studies
Key government administrative building (2006)
| | | |
| --- | --- | --- |
| Project Details | : | Large window dimensions 3370mm height x 1500mm width |
Project Challenges
Existing windows installed at close to 45° angle - very high breakage risk. Access is limited and dangerous.
Large window panels (sizes up to 3370mm height x 1500mm width) pose challenges to installation.
Application difficulties due to client's specification of a particularly thick and rigid security film.
As anchoring was required to hold the film and window to the structure, the lack of surrounding concrete structure for anchoring created many difficulties for installation.
AJA Solution
Leverage on existing I-beam on-site
Create a wet-glaze joint – "gelling up" the security film to the steel structure to transfer blast load from glass to film to steel structure
Slope angle – overcome using a "monkey bar method"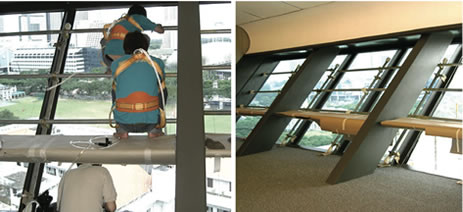 ---
International Financial Institution (2008)
| | | |
| --- | --- | --- |
| Project Details | : | Install a blast mitigation system to empower newly installed windows to achieve the GSA performance condition 3A; i.e. of "safe" under GSA; to a defined blast load |
Project Challenges
Project involved an all-glass building; little anchoring possibilities
Public roads at very close proximity hence facing high risk to vehicle bomb threats
Blast mitigation to "appear" non-existence, i.e. to blend-in well with the windows
To achieve required specifications, system needed to do some form of anchoring to transfer the load to the structure in the event of blast
Security film used is SS800, 8mil multi-ply security film
Anchoring technique of using sealants resulted in an ugly appearance of black strips over the glass façade
AJA Solutions
Design an alum extrusion, color-matched to existing alum window frame to conceal the black structural sealant
Adopt a meticulous installation method of using tape and sealant to conceal the black structure sealant, with system's screws hidden from view